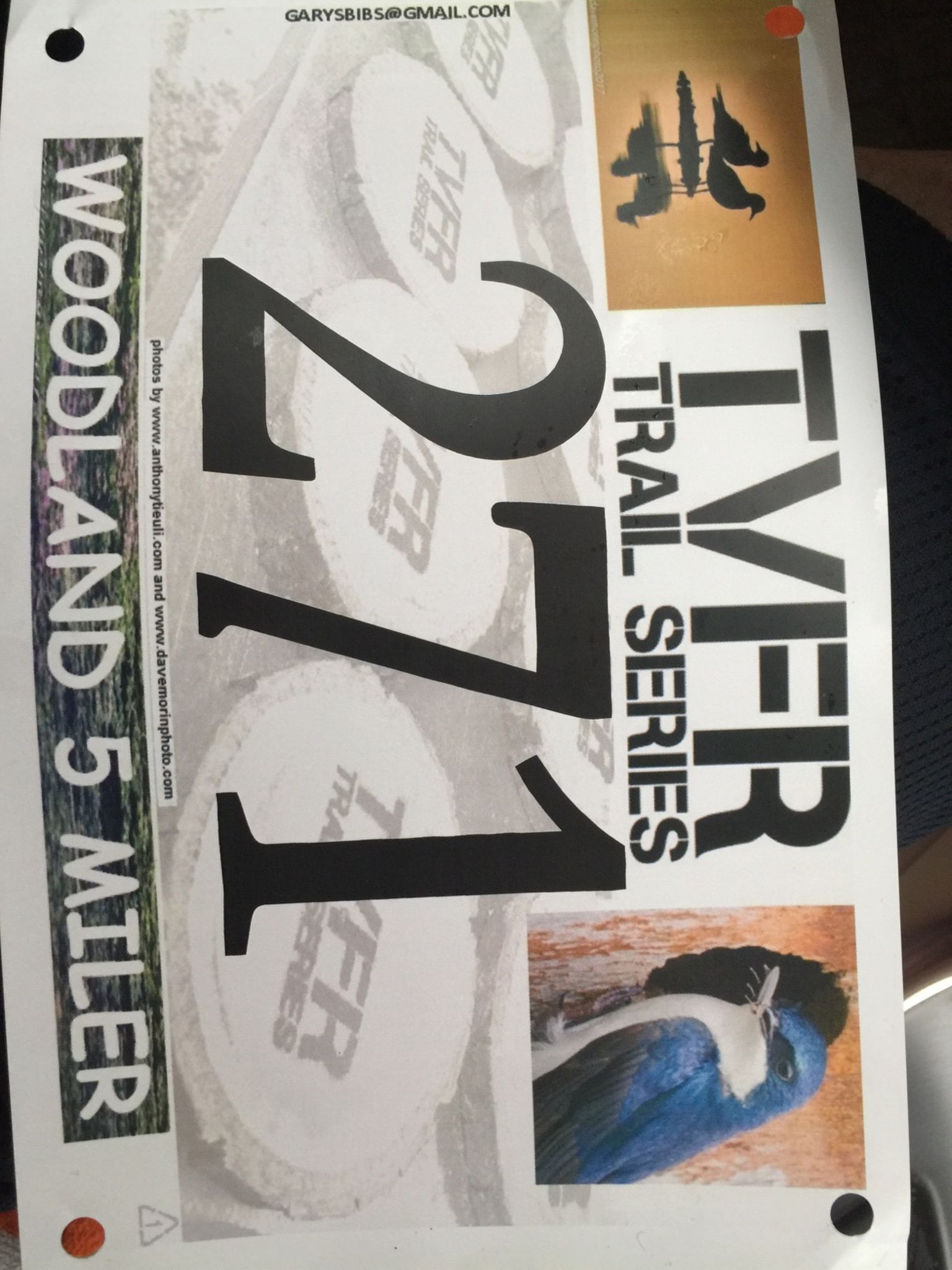 Phew.  That's a mouthful.  The Woodland Trail Series is a 3-part series of trail races through the West Hill Park in Northbridge, MA and Tri Valley Front Runners is a local (predominantly) trail running club.  My club never seems to do well at these events because, well, we're not trail runners as a group.  BUT the registration fee for these races (3 for like $16) is just too good for any of us to pass up.  It's pretzel logic, but it's logic.
The race itself is not comparatively difficult: I came less than prepared for GPS and therefore had to use my FitBit, which is more or less accurate, which registered about 300′ of elevation gain.  It was in the mid-70's but HUMID. Holy smokes, was it humid. It stopped raining just before the start of the race, which it's hard to say whether or not that was a good thing.  It's lightly technical; we started a single track for a bit, but otherwise it's fire roads and hiking trails.  If you're conditioned, it should make for a pretty fast course.  If you're not…not so much.
I did a run on Monday, that felt pretty good overall, but woke up Tuesday with some seriously sore muscles meaning I've been slacking a bit on my pacing and was feeling it. That and I've been hacking up a lung as well.  So I know this was going to be a tough run.  My friend Dukie told me I was busy looking for excuses, and perhaps I was, but I knew it was going to be a rough run.  It was.  I wish I could tell you it was a self fulfilling prophesy, but I don't think so.
I've done this particular race three times now: I ran it once each of the last two years. Last year I finished about 20 seconds slower than the year before, but I tell myself that was because it was one of my first races back after falling down the mountain.  This year, I finished about 30-seconds faster.  Roughly 2500-miles run over the last two years between running this course and I'm 30-seconds faster.  Worst? My pace was faster those times because the course registered longer. I'm so angry with my performance.  I can blame the humidity — I literally had to wring my shirt out — and I can blame respiratory issues, but at the end of the day, I just wasn't ready.  Maybe next month.  Or maybe not.  July and 9000-degrees?  Ugh. Onward and upward.
Results:
June 2018: 50:58.39
July 2017: 51:54
July 2016: 51:38