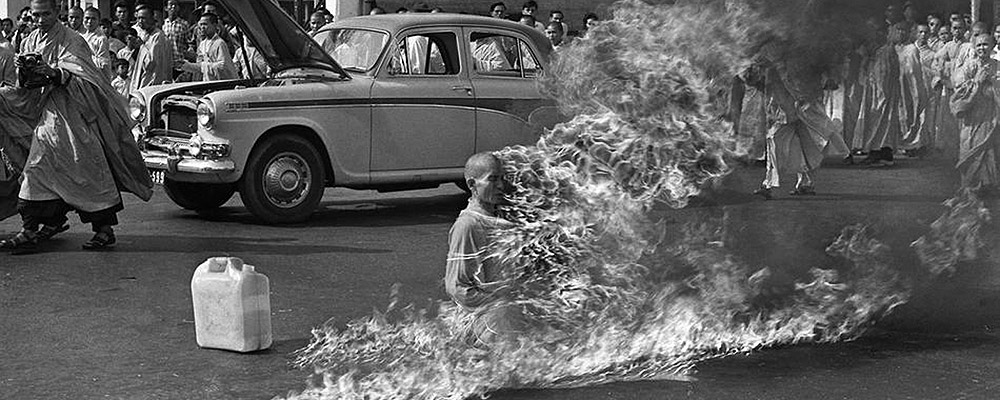 Thích Quảng Đức was a Buddhist monk who on June 10, 1963 led a procession of monks to an intersection a few blocks from the South Vietnamese presidential palace, assumed the lotus position where an associate poured gasoline over his head. He recited a homage to Buddha and subsequently lit himself on fire in protest.
I never fully comprehended why a man of faith would willingly take his life. Indeed, in Buddhism, life is precious and its destruction is to be avoided.  But then again, my own world view is that of a Western Christian, and Christianity's view on suicide is very clear. Buddhism doesn't work with absolutes.  According to one author, Buddhism sees human birth "as incredibly precious, an opportunity not to be wasted. That the human predicament includes stress and suffering is the First Noble Truth; the Second, Third and Fourth Noble Truths guide our relationship to that suffering."
But I see here, Quảng Đức was not escaping from suffering or stress.  He was drawing the worlds' attention to the ignoble condition of the Buddhist population in South Vietnam – a country that was then 90% Buddhist and ruled by a Catholic minority, intolerant of the Buddhist world view. "Not to be wasted" is not the same as "having ended." It makes sense in a way: Catholics are very black and white about life and death, about subservience to authority and hierarchy; Buddhists tend to be more complacent, willing to accept their lot. Where Christianity is very much ordered around the ten commandments – concrete rules not to be violated – Buddhism is ordered around four noble truths, guides without much in the way or explanation.  In Christianity we're taught "right from wrong;" In Buddhism the meaning of Right includes an ethical, and a balanced, or middle way.
So, why would the practitioner of a religion teaching life as incredibly precious and the destruction of which is to be avoided, self immolate in protest? The middle way.
The idea that he wasn't escaping suffering, but rather he was embracing suffering in hopes of bettering the lot of those of his countrymen.
What was shocking to the rest of the world – his ability to remain in lotus.  In The Making of a Quagmire, David Halberstam wrote "…As he burned he never moved a muscle, never uttered a sound, his outward composure in sharp contrast to the wailing people around him…" He had accepted his suffering, embraced it.
The Four Noble Truths liberate people from suffering.  Here they are from Lionsroar.com
1. Suffering
Life always involves suffering, in obvious and subtle forms. Even when things seem good, we always feel an undercurrent of anxiety and uncertainty inside.
2. The Cause of Suffering
The cause of suffering is craving and fundamental ignorance. We suffer because of our mistaken belief that we are a separate, independent, solid "I." The painful and futile struggle to maintain this delusion of ego is known as samsara, or cyclic existence.
3. The End of Suffering
The good news is that our obscurations are temporary. They are like passing clouds that obscure the sun of our enlightened nature, which is always present. Therefore, suffering can end because our obscurations can be purified and awakened mind is always available to us.
4. The Path
By living ethically, practicing meditation, and developing wisdom, we can take exactly the same journey to enlightenment and freedom from suffering that the buddhas do. We too can wake up.
So, by immolating himself, he was actually freeing himself and his countrymen from suffering.  Reread that passage from David Halberstam: "…As he burned he never moved a muscle, never uttered a sound…"  Suffering people do not sit still. He had let go of the samsara, that belief that he was separate from others.  He gave up this existence and its suffering: to be sure, he believed in reincarnation – that he would return to the earth in another form, and not to be sent to an afterlife to sit before judgement.
The Catholics in charge of the country could not comprehend why he had done what he did because they believed in an absolute prohibition on suicide, and in the certainty of sitting before God's judgement.  When Quảng Đức's action did not yield immediate results, several other monks self-immolated as well.  Interestingly enough it was not the leadership of South Vietnam who came to understand, but rather the rest of the world, horrified by what was now happening, pushed the government to action.
Now that I've described my understanding of what happened on that day, I want to share a video taken of the event.
At a time where public protest was not the norm, at a time video recording was a novelty – if not luxury – there is a video recording of it.  Think of what a video recorder in 1963 would have looked like – as the first 75 seconds of the movie show, it must've been large and bulky, and judging from the angle, frowned upon by the authorities.  We see the thousand or so protesters encircling the monk, jostling perhaps for a better view, and the authorities pushing them back.
I can't help but to think how this man was about to light himself on fire for these people, people who clearly had not reached the level of enlightenment he had – likely people with less strength of belief as his, or less commitment.  The protest was allowed to continue, even as the police would have seen the gasoline being poured over his head; perhaps it wasn't immediately obvious to them that was, in fact, gasoline.
The most powerful moment of that recording occurs at about 2:07 – the moment he lights the match.  It's as if everything else STOPS. The jostling stops. The police turn away from the throngs of people to face him, to a man their arms and hands by their sides: Respect? Awe? Disbelief?
By 2:25 or so you can see clearly how accurately Halberstam reported his lack of movement: it's not for another 30-seconds of the video before his now charred remains fall over. Halberstam notes just how quickly a human body will burn, so bearing in mind the footage has been slowed down, in real time some the gathered crowd would have begun immediately bowing on hands and knees and this would have been over in a matter of seconds.
As with any telling of story, I'm quite sure there is so much nuance and fact missing from the account.  That's not really what this post is about though. It's about the strength of mind and purpose,  of self control and selflessness, of belief to be able to make a decision you believe to be the middle way – one coming from a place of enlightenment – even if it means putting yourself in harms way, giving yourself up for the good of the majority.
I will remember this lesson just how much the mind controls our perception of the world, how it controls our sensations. How it can allow a man literally burn to death without so much as flinching. I will remember this the next time I am faced with a challenge I don't believe I can complete.