Early this week, my daughter texted me and told me that her plans for today had changed and was wondering if there was a race we could do. As it turns out, there was.  Of course, I was already registered for the Sprint and was kind of hoping to rip it up, but I would run with her.  And then it occurred to me that I didn't have to make a choice.  Since my debacle with the second Beast a couple of weeks back, I really can't see my way through to getting another one on the calendar (who knows), so my hope of earning a double trifecta this year has been pretty much shot. So since I had a code for a Sprint I decided to just run a second lap: two laps in the same day only count toward the Trifecta once. Groupon had an afternoon entry AND a discount code, so we were able to pick up a couple of late entries for about $60 each – so I got to run with both.
Also of note, since Spartan considers a second lap of the course a separate race – different bib numbers, second full registration fee, second insurance fee, second shirt, medal – I consider it a second race too. A race like FIT Challenge considers multi-laps an add-on so I consider that the same race. That's the difference between an entity overly focused on profit margin (and not wholly well run either as illustrated below) and a labor of love that's actually profitable and well regarded (and well run).
As soon as the first race of the day was finished – it began to rain.  And hard too.  So I took up shelter at the facility's shooting range and waited for the kids to get there.  Which is another story, and since this is my blog, I'll happily digress and tell you that story.
On Thursday of this week, Spartan announced it was changing up the usual practice of $10 parking and instead would make parking free and charge $5 per person to ride the shuttle.  After the backlash on social media about this – that it was contradictory to the idea of carpooling, and/or that folks would simply drop off at the facility and then park – it became clear that it wasn't going to work out quite the way the race anticipated and on Friday they announced a clarification that what they really meant was that it would be $5 per person to ride the shuttle, with a max of $10 per car. Now all well and good for me – because the kids were showing up later and were riding in together, it was $15 instead of $20.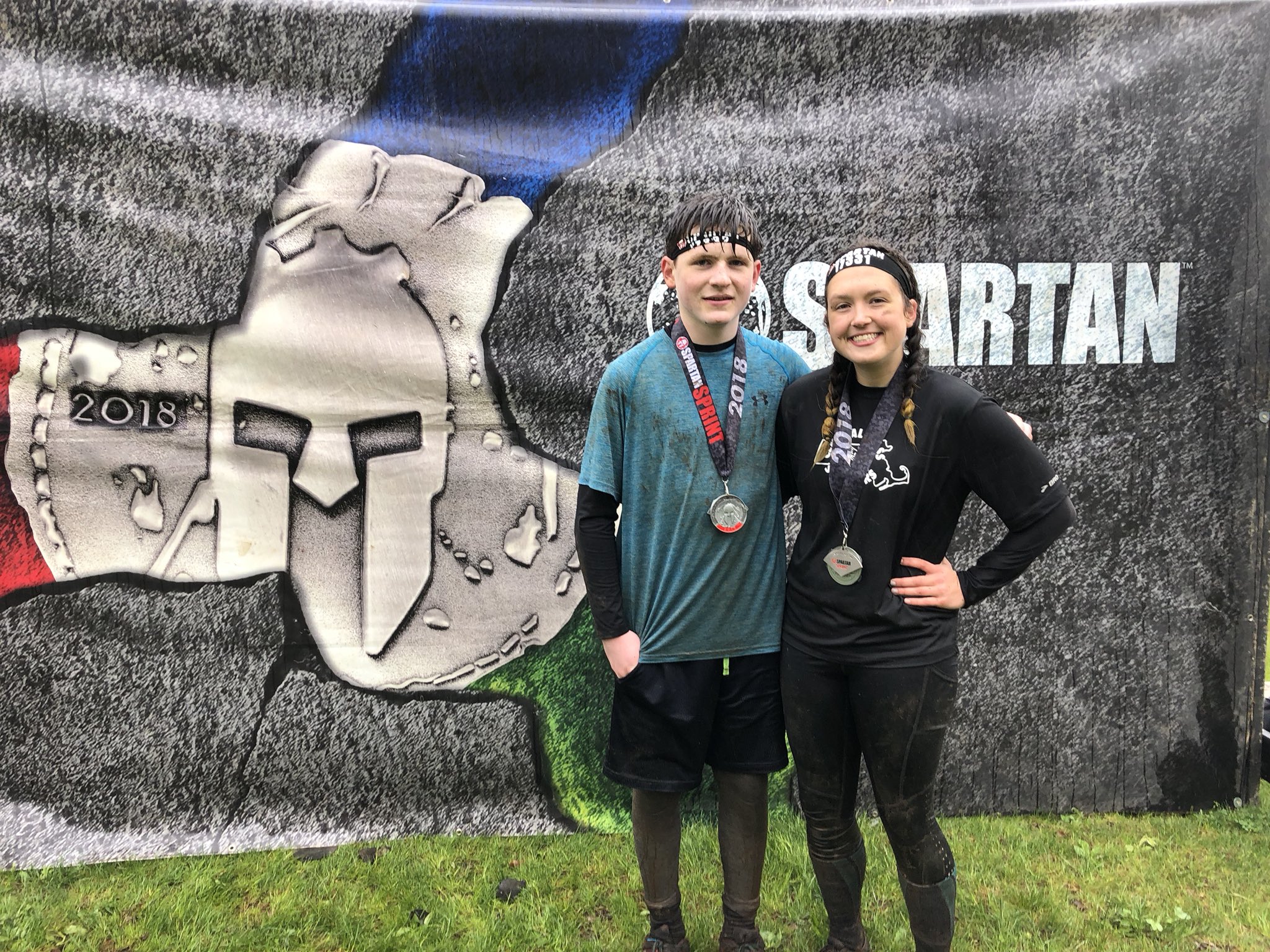 However, by the time they arrived for our 12:15 heat, the lot was full and they were now redirected to a secondary lot at a college in the next town over – 15 or 20 minutes away.  Now, there was no mention of this lot on the web site and I'm quite sure I received no email about it.  So the kids find the new place, and wait.  And wait. And wait. Because apparently no one told the shuttle drivers to go there…or how to get there.  5 arrived at once, then another that they got on.  Where they would have been 45 minutes early, they now arrived late.  Inexcusable logistics problems by a company that runs races all year across the country AND, let's not forget this was not the first time they'd run this specific race in this venue.
Remember, it's now been about 2.5 hours since my first race ended. I've been steadily rained on for two hours, muscles cooling off, and pretty sure my body had gone into full recovery mode – even if I'd only run 5-odd miles, it was longer than it had taken me to run the first race.
The rain made the already muddy course ridiculously sloppy – more than a few of the obstacles were almost impassable, Olympus was exponentially more difficult than it was in the morning; the slip wall was true to its name.  The Sandbag Carry and the Herc Hoist were made more difficult with the water having penetrated the bags.  I used the very same station at the Herc Hoist that I had used in the morning and while it's safe to say fatigue played a part, I'm quite sure it was also much heavier after sitting in the rain.  The bucket carry was more difficult due to the course itself – thicker, sloppier mud made slipping quite the hazard.
All of which said, it was awesome to run with these guys. "Team Mo" was an experience I wouldn't give back at all. Watching them help each other and support each other. Not a thing better than that.  On this time around the course, I came up with 5.63 miles and 1375′ of elevation gain.
Results (Open)