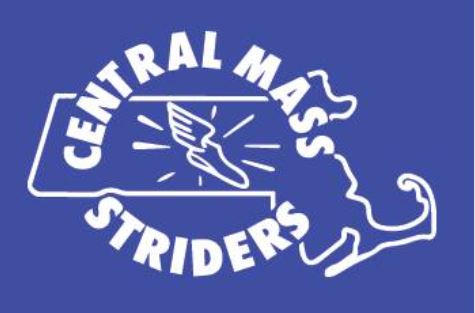 Today was pretty difficult.  The Freezer Five is a 5-mile race through Sterling, MA, along a course that's reasonably wide open, past the municipal airport around and back.  The course itself looks like a wildly out of proportion upside down coat hanger that's had its hook straightened and stretched out.
It's not terribly challenging in terms of elevation profile: some slight elevation loss, some slight elevation gain. What makes it challenging is really just getting out there in the cold – today was somewhere around 5 degrees Fahrenheit or so.
I was about 20-seconds/mile slower today than I was a year ago.  A year ago the course was actually in much worse shape with snow, but it was definitely warmer.  I really felt the effect of having been laid up the better part of December, the result of having been relegated to a walking boot for most of the month.  The good news there is that while the doctors originally thought I had a partial Achilles tear, it turns out that it was tendinitis. So while the net effect of the boot was positive (my Achilles felt GREAT today), and despite the workouts I was doing while in the boot, I hadn't changed my eating (read here more calories going in, fewer going out) so I packed on some pounds. Combined with a vast reduction in cardio work over that time, I was huffing and puffing my way through this.  In November, a group of us ran this course and I did it slightly faster than I ran the race last January, so I'm sure I could've hit this harder this year had I not been forced to take some time off running.  On the one hand, it would be easy to think of a missed opportunity, but really today is about giving myself grace: I came off the bench with a last minute decision to run and made it happen.
I considered my time today a minor victory given those circumstances and am generally pleased by the effort I put in out there.  It was difficult: between December 11 and today I had run 4 easy-miles yesterday.  I'm a little sore all over right now, but I'm glad I went out there and did it.  Onward and upward.
Distance: 5 Miles
2018 Time: 44:24 8:52 pace
2017 Time: 43:04 8:36.8 pace